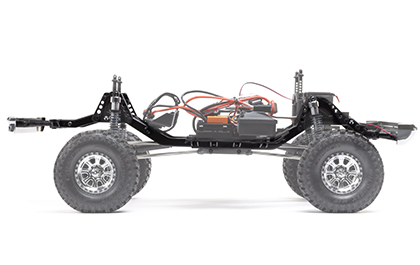 SCX10 III STEEL C-CHANNEL CHASSIS
Strong and stiff, the SCX10 III steel C-channel chassis reduces frame flexing and increases the precision of suspension movement.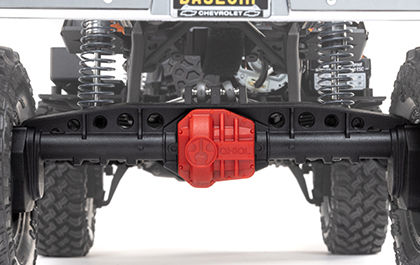 AR45 PORTAL AXLES
Included AR45 portal axles provide extra ground clearance at the differential for easier off-road maneuvering.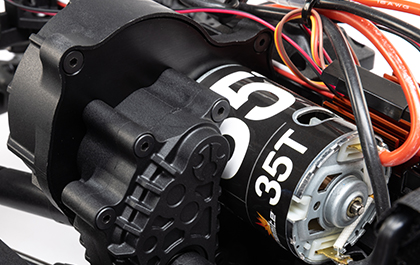 LCXU TRANSMISSION
The LCXU 4-wheel drive transmission is durable, simple, and works with standard and portal axles. The transmission includes a full set of ball bearings and all-metal internal gears for strength and durability.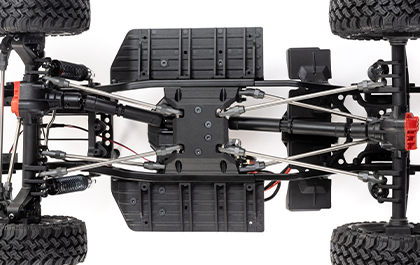 OPTIMIZED SUSPENSION GEOMETRY
The front suspension geometry of the Base Camp K10 is optimized to reduce bump steer, while the rear 4-link reduces torque twist.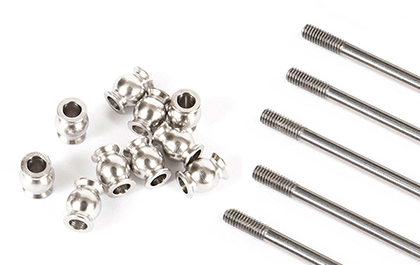 METAL LINKS
All links and pivot balls are metal for durable, long-lasting performance.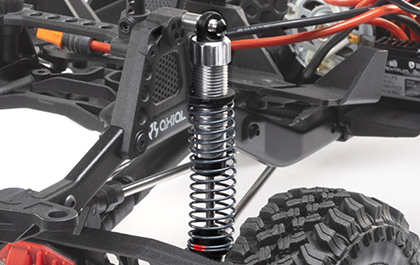 ALUMINUM ADJUSTABLE COILOVER SHOCKS
The oil-filled shocks have aluminum threaded bodies and a single coilover spring. The shocks are tunable for achieving the best dampening rate.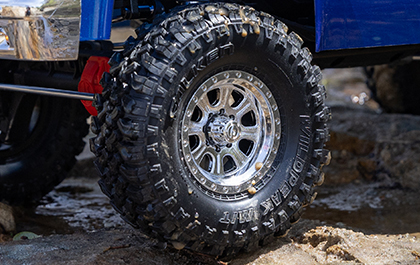 FALKEN WILDPEAK M/T TIRES
The new 4.19" Falken Wildpeak M/T R35 compound tires on one-piece Raceline 928 Monster wheels included with the Base Camp K10 provide optimized ground clearance and grip on dirt, rocks, and all other off-road trails.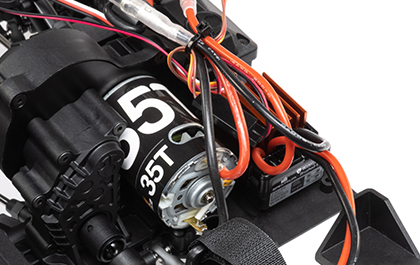 INSTALLED POWER SYSTEM
The included and installed power system features a Dynamite 35T brushed motor and Spektrum 40A brushed ESC. With this simple and reliable combo, you'll spend more time on trail and less time on maintenance.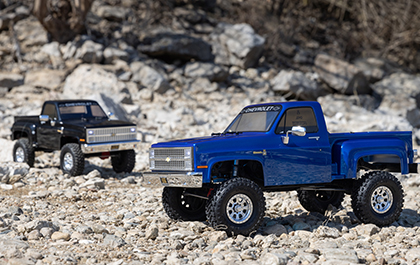 DETAILED SCALE PROLINE CHEVY K10 BODY
Factory-painted and detailed, the officially licensed 1982 Proline Chevy K10 stepside body captures the instantly recognizable "square body" lines of the iconic truck.
SPEKTRUM SLT3 RADIO SYSTEM
The included SLT3 3-channel radio provides dependable 2.4GHz control plus user-adjustable features including steering and throttle trims, steering rate, and throttle limits. The included SR315 DSMR 3-Channel Sport Receiver allows for an easy upgrade path to higher channel transmitters such as the Spektrum DX5C, DX5 Rugged or the DX5 Pro.